There is a clever theological objection to the creation account that surfaces from time to time.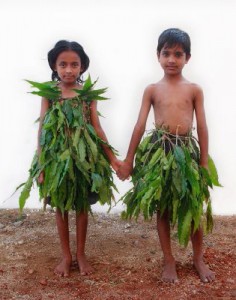 How could Adam have been guilty of sin if he did not know what sin was?  Was it really fair for God to curse Adam?  For before he partook of the Tree of Knowledge of Good and Evil, he was like a child and couldn't have possibly known what sin was.  How can one be liable for what he can't comprehend?  Yet, according to Genesis, God cursed him anyway and the entire creation for this initial act of innocent, blind ignorance!
Proponents of this argument say this is a theological flaw in the origins account, proving it can't be divinely inspired.  If Adam was indeed like a toddler that didn't even understand his own nakedness, why would he be held responsible for a moral law?  Christ said, "If you were blind, you would have no sin…" (John 9:41) Pre-fallen Adam was perhaps the most morally blind man in all of human history.
I have to admit, it's an intriguing challenge.  It would seem to be valid if the premise was correct.  The premise is, of course, not correct, but it just may be that some of these misconceptions about Adam come from within the church.  For many do see pre-fallen Adam as childlike, not having a comprehension of good and evil.  But does the Bible support this view?
The nature of Adam before the Fall
Prior to the Fall, on the very day God created Adam, He said, "Let Us make man in Our image…" (Gen. 1:26)  This was not said of any of the animals.  It was a unique attribute given only to man. But what exactly was it?  How is our image similar to God's?
We can definitely rule out physical similarities. God is spirit and, physically, not like man at all.  In fact, in a pure physical sense, we're very similar to animals.  We breathe the same way, our hearts pump blood the same way, we have similar body systems, similar appendages, similar sensory organs, etc.  Yet, Scripture makes it clear we're different.  How?
I often hear that the core difference is our intellect, and certainly we have vast intellectual advantages over animals. But this really just seems to be a matter of degree. Physically, our brains are very similar to our fellow creatures, and work very much the same way.  Obviously ours are vastly more capable in what they can accomplish, but, again, it's an issue of degree.  What is more, the Genesis account suggests animals were much more intelligent in the Garden of Eden prior to the Fall. Think about it.  The snake not only could talk, but reason and persuade (Gen. 3)!  Eve certainly thought he was smart enough to listen to. And it seems logical that the snake was probably not the only animal like this.  It's interesting that, according to Jewish tradition, other animals also had the gift of speech. Josephus, a first century Jewish historian, writes,
But while all the living creatures had one language, at that time the serpent, which then lived together with Adam and his wife, showed an envious disposition, at his supposal of their living happily, and in obedience to the commands of God;1
And while this is not inspired history, it does complement the biblical account which reveals Eve was outwitted by an animal.2  So it would seem intelligence, in and of itself, is not the distinguishing factor.  It has to be something more.
Moral Awareness
What sets us apart from the animals, is our ability to make moral distinctions. No matter how great their intelligence, the smartest chimp, dog or dolphin will never comprehend the idea of right and wrong. They definitely have emotions and feel things like anger, sadness and happiness.  But only humans receive moral commandments from God, for which they are liable.  And they have been receiving them from the very beginning, even before the Fall.
Gen. 2:16 … "Of every tree of the garden you may freely eat;  17 but of the tree of the knowledge of good and evil you shall not eat, for in the day that you eat of it you shall surely die."
But what about the skeptic's objection? If Adam hadn't yet eaten of the tree of knowledge of good and evil, how could he understand this commandment?  
Knowledge vs. Understanding
The problem with this argument is the equating of the terms knowledge and understanding. They are related, but subtly different. While knowledge can depict awareness of specific things, terms like understanding and comprehension depict a more general form of knowledge—a grasping of larger concepts.  There's a difference between knowing about specific laws, and understanding or comprehending the general concept of law.  For example, one could conceivably be unaware of most of the specific traffic laws if he had not yet studied for his driving license.  But that would not suggest he didn't understand the concept of traffic law, and his need to obey the laws revealed to him.
The ancient biblical writers understood these distinctions as well, and used several words to express the different aspects of knowledge.  The word for knowledge used in the phrase 'tree of knowledge' is da'ath—normally translated knowledge.  It carries the idea of specific knowledge usually with an emphasis on experience.  It's often used to convey sexual relations.  "…and he did not sleep (da'ath) with her again." (Gen. 38:26—NIV11)  In other words, he did not experience her sexually again. It also depicts knowledge that comes by way of demonstration—often divine demonstration. "Remember how the LORD your God led you all the way in the wilderness these forty years, to humble and test you in order to know what was in your heart, whether or not you would keep his commands." (Deut. 8:2—NIV11) God didn't just tell them, He demonstrated it to them that they might know it deeply through experience. The experience of creation also imparts da'ath.  "The heavens declare the glory of God; the skies proclaim the work of his hands. Day after day they pour forth speech; night after night they reveal knowledge. (Psa. 19:1-2—NIV11) When Moses addressed the Israelites, he reflected on his experience of knowing them personally. "You have been rebellious against the LORD ever since I have known you." (Deut. 9:24—NIV11)  It is often translated experience.  "…he did this only to teach warfare to the descendants of the Israelites who had not had previous battle experience (da'ath)." (Judg. 3:2—NIV11)  It also speaks of experiential knowledge that comes through observation.  "They were left to test the Israelites to see (da'ath) whether they would obey the LORD'S commands…." (Judg. 3:4—NIV11) "You know Abner son of Ner; he came to deceive you and observe (da'ath) your movements and find out everything you are doing." (2Sam. 3:25—NIV11)  "Every day he walked back and forth near the courtyard of the harem to find out (da'ath) how Esther was and what was happening to her." (Esth. 2:11)
We can conclude then, that the knowledge of good and evil imparted to Adam from the tree was a very real experiential knowledge of specific laws. They would now be written on his heart, and he would know them so intimately they would cause shame.  Rather than hearing specific commandments from God, his own conscience would bear witness to them.
But what about the issue of comprehending the concept of good and evil in general?  Would da'ath (knowledge) express this idea?
It would seem unlikely.  A better choice might be tebunah, which expresses a deeper conceptual form of knowledge.  It is often translated understanding, discernment, insight or ability.  It conveys the general idea of moral discernment.  "They are a nation without sense, there is no discernment (tebunah) in them." (Deut. 32:28—NIV11)  It speaks of general insight, and the ability to avoid deception.  "God gave Solomon wisdom and very great insight (tebunah),…" (1Kings 4:29—NIV11) "All your allies will force you to the border; your friends will deceive and overpower you; those who eat your bread will set a trap for you, but you will not detect (tebunah) it." (Obad. 7—NIV11)  It also speaks of an ability to accomplish things. "So Bezalel, Oholiab and every skilled person to whom the LORD has given skill and ability (tebunah) to know how to carry out all the work…" (Ex. 36:1—NIV11)  "…who by his understanding (tebunah) made the heavens,…" (Psa. 136:5—NIV11).  But tebunah was not used to describe the tree of knowledge.  It was not called the tree of understanding, nor the tree of ability, nor the tree of insight.
Biynah, would have been another good choice.  It also conveys the idea of understanding and discernment.  Solomon received a good measure of this in order to rule over the Israelites successfully.  "May the LORD give you discretion and understanding (biynah) when he puts you in command over Israel, so that you may keep the law of the LORD your God." (1Chr. 22:12—NIV11)  "Praise be to the LORD, …! He has given King David a wise son, endowed with intelligence and discernment (biynah), who will build a temple for the LORD and a palace for himself." (2Chr. 2:12)  Biynah speaks directly of moral discernment.  "The fear of the Lord—that is wisdom, and to shun evil is understanding (biynah)." (Job 28:28—NIV11)  But this term also was not used.  Adam did not partake of the tree of discernment.
hakemah is another term that speaks of a deeper conceptual form of knowledge. It is most often translated wisdom and emphasizes skill, as in the skillful use of one's knowledge.  It can speak of one's vocational skills. "And all the women who were willing and had the skill (hakemah) spun the goat hair." (Ex. 35:26—NIV11) "Bezalel, Oholiab and every skilled person to whom the LORD has given skill (hakemah) and ability to know how to carry out all the work of constructing the sanctuary…." (Ex. 36:1—NIV11)  It also speaks of skill in leadership.  "Now Joshua son of Nun was filled with the spirit of wisdom (hakemah) because Moses had laid his hands on him. So the Israelites listened to him and did what the LORD had commanded Moses." (Deut. 34:9-NIV11)  "The LORD gave Solomon wisdom (hakemah), just as he had promised him." (1Kings 5:12-NIV11)  Satan was said to have a perfect measure of wisdom before his fall in the Garden.  "You were the seal of perfection, full of wisdom (hakemah) and perfect in beauty. You were in Eden, the garden of God…" (Ezek. 28:12-13-NIV11)  But again, this is not the kind of knowledge that the tree imparted.  Adam not partake of the tree of skill, nor the tree of wisdom.
Manda' is yet another choice, and speaks of one's general ability to reason.  It often speaks of sanity, such as when Nebuchadnezzar had his mind restored.  "At the end of that time, I, Nebuchadnezzar, raised my eyes toward heaven, and my sanity (manda') was restored… (Dan. 4:34-NIV11)  It speaks to the sharpness of one's mind. "He did this because Daniel, whom the king called Belteshazzar, was found to have a keen mind and knowledge (manda') and understanding…" (Dan. 5:12—NIV11)  But this word also was not used of the tree.  Adam did not partake of the tree of sanity.
Adam had understanding and discernment from day 1
The tree Adam partook of was the Tree of Knowledge (da'ath).  He did not partake of a Tree of Understanding, or Comprehension, or Ability, or Discernment or Wisdom as the skeptical argument suggests. He already had those forms of knowledge, and could discern the concept good and evil just fine. What Adam lacked was specific experiential knowledge (da'ath) of specific laws. And God wanted to keep it that way. Rather than receiving laws inwardly, through conscience, God wanted to reveal them to him directly.  And before his fall, this is exactly what God was doing.   "…but of the tree of the knowledge of good and evil you shall not eat, for in the day that you eat of it you shall surely die…." (Gen. 2:16)
Knowledge of specific moral laws is what activates man's moral responsibility. Without it, he cannot be guilty of sin. "…I would not have come to know sin except through the Law…" (Rom. 7:7) When the Pharisees pridefully implied their vast knowledge of law, Jesus informed them of the consequences of that knowledge. "…If you were blind, you would have no sin; but since you say, 'We see,' your sin remains. (John 9:41)  Before the Fall—before eating of the Tree—knowledge of specific laws came directly from God to Adam's ears. After eating of the Tree, this changed.
Gen. 3:7 Then the eyes of both of them were opened, and they knew that they were naked; and they sewed fig leaves together and made themselves coverings.
Now, God could have easily made Adam and Eve aware of their nakedness before the Fall by telling them so, and perhaps He eventually would have. Then again, perhaps nakedness is only forbidden in a postlapsarian (post-fallen) world where it would become a source of temptation. Regardless, knowledge of specific laws would now come from within—from their conscience. This would be true for Adam and Eve and all their descendants.  We no longer need a spoken/written Law to be liable before God.
Rom. 2:14 for when Gentiles, who do not have the law, by nature do the things in the law, these, although not having the law, are a law to themselves,  15 who show the work of the law written in their hearts, their conscience also bearing witness, and between themselves their thoughts accusing or else excusing them)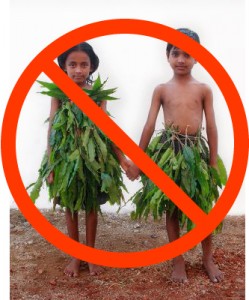 But none of this has anything to do with understanding the concept of law. Adam was created a full-grown adult, with a fully developed mind.  From day one he was full of understanding and discernment. Yes, he had childlike innocence, but that's where the similarities end. Intellectually, he was extremely advanced.  He was fluent in language, able to give names to hundreds (perhaps thousands) of animals.3  He even understood poetry.  The first occurrence of Hebrew parallelism came from Adam, the day he met Eve (Gen. 2:23 ).4  And from day one, he was entrusted with a moral commandment—"do not eat…"  There was nothing childlike about him.
Conclusion
The objection that Adam couldn't comprehend his sin before the eating of the tree of knowledge fails on two fronts. It misunderstands the nature of pre-fallen Adam, and it misunderstands of the nature of the knowledge imparted by the Tree of Knowledge.  Once those misunderstandings are cleared up, the objection falls apart.
As we've shown, Adam had moral understanding before eating of the Tree. He was innocent like a child, but advanced in every other way.  From the moment he was created, he would have had no problem grasping the concept of law and consequence.
Furthermore, the Tree of Knowledge was not a tree of discernment or understanding that imparted to him the general concept of moral law.  This is a false idea that is not derived from the text.
Adam's guilt, therefore, remains, as this clever objection fails.
Footnotes
1. Antiq. 1:41
2. This takes into account the view that the snake was a literal animal, as the text conveys, who was incited by the devil in the same way other men have been incited since—David (1Chr. 21:1), Peter (Matt. 16:23), The king of Tyre (Ezek. 28:12-19), Judas (Luke 22:3)
3. Adam had named the animals in the Garden of Eden prior to the creation of Eve (Gen. 2:19-24).  Since both Adam and Eve were said to be made on day 6 of creation (Gen. 1:26-31), all the events in Gen. 2:19-24 would have been on this same day.  This shows Adam had an incredible language capacity.
4. Hebrew parallelism is the foundation upon which all biblical poetry is based.  And the very first utterance of parallelism in the Bible comes from Adam.
Gen. 2:23
"This is now bone of my bones
And flesh of my flesh;
She shall be called Woman,
Because she was taken out of Man."